Ginacue Honey Maple
"Heartwood" Five Point Cue
This is a pretty five point cue from Ginacue made with heartwood maple deep from the heart of the log, giving it the rich "honey" color that helps make it special. This cue came from a private collection and although it was made in 2005, it has been locked up these past 13 years and is still unplayed and unchalked.
Finding an older Gina in this condition is rare. Some of you may recognize it as one of Ernie's old model 17As, but it's even more rare to find one in new condition with this unusul wood. It's a classic Ginacue five-pointer with gorgeous wood and very pretty veneers.
Here is part of Ernie's original description of this cue: "Rock hard bird's eye maple inlayed with five (honey maple) prongs framed with five tiers of richly colored maple veneer, and finished with a (honey maple) butt. Steel joint and Irish linen wrap are standard."
As his description says, the veneers are richly colored and very pretty. They are the perfect contrast between the beautiful heartwood in the prongs and the lighter colored maple in the nose.
He signs this cue in the maple on the nose under the finish. This is a very traditional look for Ginacue, and although his five point designs are somewhat unique to Ernie, it is a classic design.
| | |
| --- | --- |
| This "heart wood" maple has a rich honey color, and is loaded with bird's eyes - a beautiful piece of wood. At the butt, it has Ernie's standard ivory look-alike butt cap, with the Ginacue logo engraved. | |
He finished it with a white Irish linen wrap with black specks. He adds a small check ring pattern in red at the joint and on the ring collars of the shafts. It has a set of custom made joint protectors, which I'm not sure are original from Ernie They could be, but they don't look like anything I've ever seen Ernie make. Either way, they're nice to have, and match the cue. The two shaft protectors have a small ivory disc on top surrounded by a black circle on one and a red circle on the other. The butt protector has a simple ivory cap on top.
He builds this cue with his traditional stainless steel piloted joint with his proprietary 5/16X14 pin.
I bought this cue, along with two other Ginas, from a private collection where it had been locked away for many years. I wanted to be sure they were all still sound, so I hit a few balls with each one, unchalked, to test them. I was amazed how well this cue hit - it is perfectly balanced and has a soft, firm hit. I had to make myself put it up quickly so I wouldn't be tempted to keep it as my own personal player.
This stick has two 13mm shafts of premium Ginacue maple with ivory ferrules. It weighs 19.2 ounces. It is in "new" condition, unplayed and straight as an arrow. There are lots of people looking for old Ginas made with ivory, so here's a great opportunity.
SOLD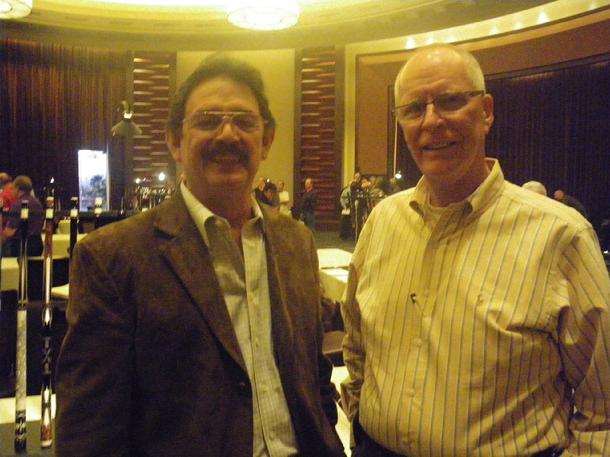 Tom with Ernie Gutierrez at the International Cue Collector Show
(Click here to return to top of Cue Index Page)