WELCOME TO

CUSTOM BUILT CUES AND QUALITY CASES
FOR EVERY TASTE AND BUDGET.
(UPDATED WEEKLY AND ALWAYS UP TO DATE.)
Last updated on December 2, 2023
RECENTLY ADDED
1. NEW PRE-OWNED EDDIE COHEN

2. TWO NEW NORTH DEMON
EIGHT POINTERS
3. NEW BOB OWEN MERRY WIDOW
4. FOUR NEW McWORTERS, INCLUDING
HIS NEWEST DESIGN, "THE ROYAL",
A NEW "PINNACLE", A COCOBOLO "CROWN"
AND A COCOBOLO "FEATHER CROWN".

5. TWO AMAZING NEW NORTH DEMONS
(TWO OF THE MOST ELABORATE CUES EVER!)
6. A GORGEOUS NEW LARRY VIGUS CUE
7. MIKE DURBIN'S 2023 ICCS SPECIAL
COLLECTION CUE,
A TITLEIST CONVERSION AND THREE
NEW PRETTY MERRY WIDOWS.

ALSO ... SPECIAL CLOSE OUT PRICE
ON JACOBY "BLACK" CARBON FIBER SHAFTS
$315 SHIPPED!!!
(OVERSTOCK SPECIAL: 3/8 x 10 PINS ONLY,
12.3 MM, $240 SHIPPED.)

AS A JACOBY DEALER, WE ARE NOW

STOCKING THEIR CARBON FIBER
"BLACK" SHAFTS IN MOST SIZES,

AS WELL AS THEIR "BLACKOUT"
BREAK AND JUMP/BREAK CUES.

NEW VOLTURI CASES!
WE HAVE THE BIGGEST SELECTION
OF NEW VOLTURIS IN THE U.S.!
TAKE A LOOK AT OUR CHOICES.
PRETTY, HIGH QUALITY CASES
IN A VERY ATTRACTIVE PRICE RANGE.

FEATURED CUE
LARRY VIGUS IN EBONY AND SILVER
NORTH DEMON SUNBLADE WITH MATCHING EXTENSION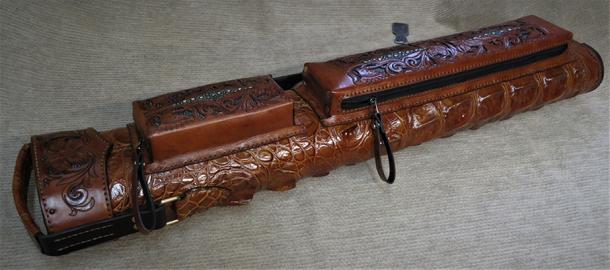 HORNBACK CROCODILE CASE FROM VOLTURI
Shengtang VII From North Demon
Shengtang VIII from North Demon
GROUP PICTURES
OF WORK BY A FEW OF
OF OUR POPULAR CUEMAKERS
(Go to Index page for details.)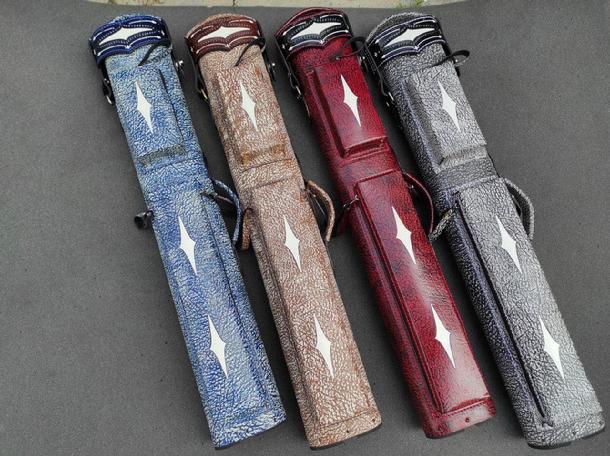 Volturi Water Buffalo Cases in 3X6
PAYMENT POLICY: We accept cash, checks, money orders, and electronic bank transfers. When paying by check, we need to allow time for the check to clear before shipping. Therefore, official bank checks (cashier checks) are quicker. We also accept MC, VISA, and Paypal, but need to add a 3% charge to cover fees. (Sorry, Recollection Cues doesn't operate with the kind of markups
that allow us to absorb those fees.) Recollection Cues will accept returns on cues or cases that arrive other than as advertised in the listing. Unless otherwise specified, shipping is not included in price.
Also, on occasion, we will consider trades on
collectible and/or high quality firearms.
RECOLLECTION CUES©
Playing competitive pool since 1962.
Field testing cues and researching construction
techniques since 1975.
Collecting cues and cases since 1992.
Trading, buying and selling custom cues and cases since 2002.
Representing 18 top Custom Cuemakers and handpicking
much of their best work for our customers.
Buy "Simply the Best" from the Best - Recollection Cues.
Experience - Knowledge - Honesty - Integrity
www.recollectioncues.com
At Recollection Cues, with a few rare exceptions, own the cues and cases sold on the site. Our business model is not based on consignment. If you inquire about a cue, we don't have to call someone else to get the specs. Here, you will find we always have the cue, not just a picture of the cue.
Best of all, we don't have to mark it up above a fair price to make a commission so that you have to pay more than the cue is worth.

WE ARE ALWAYS LOOKING FOR CUES TO BUY!!!
Contact us by email if you have a custom cue to sell. (You can tell by the cues on this site what kind of cues we're interested in.)

RECOLLECTION CUES© IS AN
AUTHORIZED DEALER
FOR SELECT CUE AND CASE BUILDERS
Doug Beasley Cues

Elliott Custom Cues

Eddie Cohen Cues
Cory Barnhart Custom Cues
Jacoby Custom Cues

Kikel Custom Cues
Andy Gilbert Custom Cues
Blackcreek Custom Cues
Nitti Cues
Jacoby Custom Cues

Andy's AV Cues
Samsara Cues
Treadway Cues
JB Cases
Volturi Cases


Check "Index of Cues" page for the best in player cues and
artistic creations by each of these great custom cue makers.
All descriptions, text and photographs on this site are copyrighted under U.S. law, are the property of Recollection Cues© and cannot be copied, quoted or used in any way without the express, written permission of Recollection Cues©.
IMPORTANT NOTICE!
Some of our customers have alerted us that there is a company in the Phillippines advertising super-cheap knock-off cues on Ebay. This company is stealing the designs of many American cuemakers. This isn't new, but I suppose I should take it as a compliment that they are now stealing many of the pictures from my website and using them on Ebay to misrepresent what they're selling. I've been told many times the pictures here on Recollection Cues are the best in the industry, so I guess that's why they're stealing ours.
Most of our customers are knowledgeable enough about cues to realize that you can't make a $5,000-10,000 cue for $189! After all, you can't make even a simple sneaky Pete of any quality for that price. Even a simple block of good ebony costs $200 and up these days!) If you buy a cue like this, you will get a cheap cue of poor quality wood that will begin to warp as soon as you get it. The design will likely be made up of decals (not real inlays) glued on under a cheap finish that will start to deteriorate immediately. Don't waste your money!

We are doing what we can to combat this, but it's a prime example of the ongoing international theft of intellectual properties, and how difficult it is to enforce copyright laws. (All pictures on our website are copyrighted and cannot be used or reproduced without our permission.)

TESTIMONIALS
Just wanted to say the cue arrived safe and to thank you for such top-notch service. Thanks again and I'll definitely be recommending you to all my friends.
- Jason Terry, Grand Blanc, MI
Thank you for the great experience I had buying the Treadway cue. It is breautiful. You represented it well and went above and beyond with the quick shipping. Your kindness and business ethic will not be forgotten when I buy my next cue from you.
- John Dreibelbis, Alexandria, VA
Cue arrived today, as described and shipped well. It is a pleasure to purchase a high end cue from an honest and professional seller. Thanks for answering all my questions. I will be buying from you again.
- Victor Edwards, Crestview, FL
The cue arrived safe and sound. It really is gorgeous. While not a pro by any means, I've never been able to honestly say "Damn, this thing hits really good!" I finally understand the feeling. I knew after one rack that this cue was my new everyday shooter. It was an epiphany. Thanks for facilitating what I hope is a major improvement in my game.
- Bob Meadows

I received the cue today. It is a very nice cue. I am very pleased. Thank you for a smooth transaction.
- Jim Fogelman, Whitsett, NC
I got the case today and it was way better than the pictures made it out. I'm so happy.
- Kurt Hodges, Tallahassee, FL
The cue looks even better in person and is fabulous in every way. It meets all my expectations and even more. Thank you very much for the pleasant and smooth deal. This is the first cue I bought from you but certainly not the last.
Thanks again, and nice to be your customer!
- Jeffrey Chia, Singapore
I received my cue today, and it is every bit as nice as you represented it, in fact, it is prettier than pictures could show. It plays fantastic. I have been playing with a nice ebony Viking cue with a Vicore shaft and the difference in feel between the two cues is huge. I am very pleased. The whole transaction working with you was very smooth; it is nice working with an honest man.
Opinion and News
Regarding Ivory Regulations
New regulations have been issued by the Department of Fish & Wildlife which set new restrictions on the sale of items containing ivory. These restrictions went into effect July 7, 2016. With regard to cue sales, they have minimal effect. They are primarily aimed at two things: 1) restricting the sale of raw ivory or objects which are virtually all ivory, such as tusks, large scrimshawed pieces, etc., and 2) preventing new items from being constructing using ivory by virtue of limiting interstate sales.
Any cue made prior to July 7 from legally imported ivory (ALL of the ones featured on this website!) can still be sold from state to state, unless one of the particular states has its own restrictions. Any cue made from legal ivory (pre-ban or legally imported under CITES agreement regulating import), that contains less than 50% of its weight in ivory, has less than 50% of its value in ivory, and is an integral part of the cue (not easily removable), meets what is called the "De Minimis" exemption, and can still be legally sold and transported, now and on into the future. This means virtually any cue ever made.
This is good news for collectors, because there has been a good deal of speculation as to what the new regulations might do or say. A great many of us involved in cues have send a lot of letters and email to legislators and DFW, contributed money, and even testified to legislators and directly to DWF, in an effort to help them understand that building cues using ivory brought into this country a hundred years ago, or that is coming into the country under the existing legal agreements which, in effect, are SAVING elephants, does no harm. We have worked hard in conjunction with scrimshanders, antique dealers, gun and knife collectors, and musical instrument owners and makers. Even the NRA got into the fight. For the most part, we have been successful. However, in the end, the cuemakers themselves are the ones most effected within the cue industry.
As of July 7, cuemakers were no longer allowed to make cues with ivory and sell them outside their own state. This is a change, and many of the cuemakers I have talked to have ceased building cues with ivory, except by special order. How this effects the value of existing ivory cues is yet to be determined, and at this point, a matter of opinion. I believe the value of ivory cues will go up. If they are no longer being made, the demand will quickly exceed the supply. That's good for collectors and players who already own these cues. If you own a cue with ivory, I think you can expect it will increase in value as this plays out. Recollection Cues is in the process of re-assessing the prices of all cues in our inventory, and may soon be making adjustments resulting in price increases.
All in all, I think this is a "plus" for the cue industry. Now that the new regs have been published, the uncertainty that has surrounded this issue for several years has been removed. And, existing cues containing ivory will go up in value. As to future new cues, cuemakers are already beginning to use new and different materials and techniques to insure that future cues will be as beautiful as ever. I think we can look forward to a thriving future for the cue industry.
THE TRUTH ABOUT IVORY
It's always distressing to me to realize how few people really have an understanding of the truth about the availability and use of ivory in the world today. The entire picture has been thoroughly distorted by the "all or none" approach used by enthusiastic "environmentalists", no doubt well-intentioned, but equally misguided and uninformed themselves.
The truth is that there has been a worldwide disinformation campaign, especially in the U.S. and Europe, about the availability and sources of legal ivory. First, it is important to know that there is still legal ivory available throughout the world - obtained legally and regularly exported and imported around the world, with NO harm to elephants. There are regulations governing its export, import and use, and there are still small, impoverished third world countries that rely on the revenue that comes from legally obtained ivory. Virtually all ivory available today is obtained legally; it comes from a variety of sources which are not harmful to elephants, and in some cases actually helps the elephant herds and their long term survival. Today, ivory is well-managed by sound policies around the world, and its export, import and use is managed by the international CITES agreement, followed by almost every nation. Still, certain groups want an outright ban on the use of any ivory, period. This is midguided thinking and faulty policy based on a general lack of knowledge.

To begin, there are quite literally thousands of tons of ivory that was imported into the U.S. many, sometimes hundreds, of years ago. What purpose does it serve to destroy and waste it? It certainly doesn't help elephants.
Second, there are literally tons of ivory laying on forest floors and in the plains of Africa and Asia which has become available naturally as elephants die a natural death. Current laws have actually done more harm than good, because around the world there were natives of these countries whose livliehood depended on finding and collecting this ivory, and today's regs and laws have deprived them, some of the poorest people in the world, of an income ... with no harm to elephants.
Third, and equally important, there is still legal ivory coming available regularly as herds are scientifically culled, and as conservationists eliminate older and sick elephants. This occurs as herds become too large and their natural environment can no longer support them, and for the general health of the herd. Again, why not use the ivory that becomes available in this way? It is simply a waste to destroy it, and deprives local communities in some of the poorest areas of the world of a valuable source of income.
Unfortunately, this story is seldom told by those pushing the "all or none" approach to the use of ivory. Those at the top of these organizations and groups know it, but hide it because it doesn't serve their purpose. And the average person seldom hears the whole story.

Finally, some people ask why use ivory? Craftsman everywhere - cuemakers, luthiers, and carvers - know that there is no other material with the same qualities as ivory. It cuts and carves better, takes engraving and etching better and just looks better. There are many ivory substitute materials available today that is being widely used but it is not the same. Place two cues next to each other - one with ivory and one with an ivory substitute, made exactly the same way - and the one with ivory always stands out.

Personally, I hope no elephant is ever harmed for its ivory. It's a shame that this happened in the past. But to waste ivory that is already available, or comes to us naturally with absolutely no harm to elephants, and deprives the poorest people in the world of perhaps their only source of income, is a misguided and uninformed movement, at best.

ATTENTION: Recollection Cues does NOT sell cues with ivory outside of the United States and has always strived to stay within the laws governing exportation of ivory products. All ivory used in cues has been legally obtained by reputable cuemakers under current ivory importation agreements (CITES), or has been in this country long before current regulations were established (also legal). All cues listed on this site for sale meet the regulations established by the Department of Fish & Wildlife and the "De Minimis" exception.
(Click here to return to top of Cue Index Page)